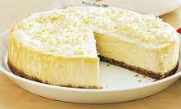 Ingredients
Edit
1 ¾ cups graham cracker crumbs (about 16)
6 Tbsp sweet butter melted and clarified
1 Tbsp castor sugar
1 tsp freshly grated nutmeg
1 tsp sweet butter, softened
10 oz white chocolate, broken up
½ cup heavy cream, at room temp
16 oz cream cheese, softened and cubed, at room temp
4 fresh large eggs, separated, at room temp
4 tsp pure vanilla extract
Dash of salt
6 oz white chocolate, broken up
¼ cup heavy cream, at room temp
2 Tbsp vanilla or coconut extract
Directions
Edit
Butter springform pan with softened butter. Combine graham cracker crumbs, melted butter, nutmeg and sugar in food processor or bowl and process until well mixed. Press evenly over bottom and two thirds up sides of pan. Set aside. Preheat oven to 300 F.
Melt chocolate in double boiler. Slowly stir in cream until smooth. Remove from heat and let cool slightly. In large bowl, with electric mixer on medium speed, beat cream cheese until smooth. Add egg yolks 1 at a time, making sure to blend well, and stopping to scrape down sides of bowl after each addition. Add chocolate mixture, vanilla and salt. Beat at medium speed for 2 minutes. Beat egg whites in a separate mixing bowl, with electric mixer on low speed, until foamy. Beat on high until soft, rounded peaks form. Fold egg whites into chocolate mixture. Pour into crust. Place pan on baking sheet and bake at 300 F for 55 minutes. The cake will rise and top will wiggle slightly when shaken. Turn off heat and let cake stand in oven 1 hour (it may sink). Remove cake from oven and place on wire rack in draft free place and cool cake to room temp.
Melt chocolate in double boiler. Slowly stir in cream until mixture is smooth. Stir in flavoring. Pour topping over cool cake. Cover with plastic wrap and refrigerate overnight. Garnish, if desired. Serve at room temp.
Community content is available under
CC-BY-SA
unless otherwise noted.