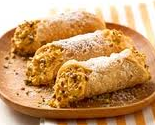 Ingredients
Edit
½ an 8-oz carton Mascarpone cheese
½ cup chopped roasted pistachio nuts
¾ cup powdered sugar
½ cup whipping cream
¾ cup canned pumpkin
12 purchased cannoli shells
½ cup ricotta cheese
Powdered sugar or granulated sugar
1 tsp pumpkin pie spice
Directions
Edit
In a large bowl stir together Mascarpone cheese, powdered sugar, pumpkin, ricotta, and pumpkin pie spice until smooth. Stir in ¼ cup of the nuts. Set aside. In a chilled mixing bowl beat cream with an electric mixer until stiff peaks form. Fold into pumpkin mixture. If desired, cover and chill up to 4 hours to serve, spoon pumpkin mixture into a self-sealing plastic bag. Snip a ¾-inch hole in one corner. Pipe filling into cannoli shells so pumpkin filling extends from ends. Sprinkle cannoli ends with remaining nuts. Arrange on a serving platter; sprinkle with sugar.
Community content is available under
CC-BY-SA
unless otherwise noted.