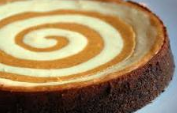 Ingredients
Directions

9 oz chocolate wafers, finely crushed
¼ cup sugar
6 Tbsp butter, melted
1 ½ cups canned pumpkin, solid pack
½ cup light brown sugar
3 eggs, slightly beaten
5 oz evaporated milk
1 tsp vanilla
½ sugar
1 Tbsp cornstarch
1 ½ tsp ground cinnamon
½ tsp ground ginger
¼ tsp ground nutmeg
¼ tsp ground cloves
Salt
3-8 oz Mascarpone or cream cheese, softened

Preheat oven to 350 F. Mix chocolate wafer crumbs, sugar, and melted butter. Press mixture firmly onto the bottom of a 9-inch spring form pan. Bake until crust is set, about 8 to 10 minutes. Remove from oven and cool crust completely. In a bowl, stir together pumpkin, brown sugar, eggs, evaporated milk, and vanilla. Set aside.

In another large bowl, mix sugar, cornstarch, spices, and salt. Add cheese and beat on high speed until smooth. Take out ¼ of the cheese mixture and set aside for topping. With mixer running at low speed, add pumpkin mixture to the cheese mixture and mix until combined and smooth.

Place spring form pan with prepared crust on a baking sheet (in case it leaks). Pour pumpkin mixture into pan. Drop dollops of the reserved cheese mixture over the pumpkin mixture. Use a thin metal spatula or a knife to gently pull the cheese dollops through the pumpkin to make swirls. Bake at 350 F for 50 to 60 minutes, or until center of cheesecake is just set. Remove from oven and cool for 30 minutes. Cover and chill for a couple of hours. Remove sides of spring form pan to serve.
Community content is available under
CC-BY-SA
unless otherwise noted.