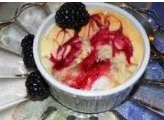 Ingredients
Edit
1 pint blackberries
½ cup plus 1 Tbsp fresh lemon juice
3 Tbsp unsalted butter, melted, plus more for ramekins
3 large eggs, separated
6 Tbsp cake flour (not self-rising), sifted
1 cup milk
¼ tsp salt
Boiling water, for pan
4 oz crème fraiche (about ½ cup)
Directions
Edit
Preheat oven to 350 F. Process 2 ½ oz. Blackberries (12 to 15 berries), 1 Tbsp lemon juice, and 3 Tbsp sugar in a food processor or blender until smooth. Pass mixture through a fine sieve into a small bowl; discard solids. Set sauce aside. Butter inner top inch of six 6-oz. Ramekins; set aside. Whisk together egg yolks and ¾ cup sugar in a medium bowl. Whisk in flour and milk in two batches each, beginning with the flour. Whisk in remaining ½ cup lemon juice, the salt, and the melted butter, and set aside.
Put egg whites in the bowl of an electric mixer fitted with the whisk attachment; beat on medium-high speed until very frothy, about 1 ½ minutes. With mixer running, add remaining ¼ cup sugar in a slow, steady stream; beat until whites hold stiff (but not dry) peaks, about 2 minutes. Whisk half the whites into reserved lemon mixture until combined; gently fold in remaining whites with a rubber spatula.
Place the ramekins in a high-sided roasting pan or baking dish, and divide the batter among ramekins, filling each almost to the top. Spoon a few drops of berry sauce onto cakes, and use a toothpick or skewer to swirl sauce into batter. Transfer to oven; pour boiling water into pan, a bit more than halfway up sides of ramekins. Bake until cakes are set and the tops are just starting to turn golden brown, 35 to 40 minutes. With tongs, transfer the ramekins from pan to a wire rack, and let cool 15 minutes. Meanwhile, beat crème fraiche in a clean mixing bowl until it holds soft peaks. Serve cakes warm with crème fraiche and remaining blackberries.
Community content is available under
CC-BY-SA
unless otherwise noted.