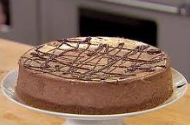 Ingredients
Edit
1 ½ cups finely ground chocolate wafers
6 Tbsp unsalted butter, melted
4 large eggs
¾ cup sugar
1 ½ lbs cream cheese, softened
2 Tbsp cornstarch
1 Tbsp plus 1 tsp vanilla
1 cup sour cream
2 Tbsp instant espresso powder
12 oz fine quality bittersweet chocolate, melted and cooked
½ cup chilled heavy cream, whipped into soft peaks
Directions
Edit
Preheat oven to 325 F and butter a 9-inch springform pan. In bowl stir together wafer crumbs and butter. Press mixture onto bottom and 1-inch up side of pan. Bake crust in middle of oven 10 minutes and cool in pan on rack. When crust is cool, wrap pan in foil by putting in middle of an 18-inch square heavy duty foil and crimping foil around bottom and up side of pan to secure.
In large bowl with an electric mixer beat eggs with sugar until light and fluffy. Add cream cheese and beat until smooth. Sift cornstarch into mixture and ad 1 tsp vanilla and sour cream. Beat filling until smooth and transfer 2 cups to a small bowl. In small cup stir together espresso powder and remaining Tbsp vanilla, stirring until espresso powder is dissolved. Stir espresso mixture into filling in small bowl. Add chocolate to filling in large bowl, stirring until combined well, and fold in whipped cream. Pour choco filling into crust. Spoon espresso filling evenly over choco filling and spread to form an even layer, being careful not to mix layers. Put springform pan in larger shallow baking pan and pour enough hot water to reach halfway up side of springform pan. Bake cheesecake in middle of oven 1 ½ hours. Turn off oven and let cheesecake stand 15 minutes with oven door closed. Transfer cheesecake in pan to a rack and cool completely. Chill cheesecake, covered, at least 1 day and up to 2. Run a thin knife around edge of pan and remove side. Garnish cheesecake with chocolate curls. To serve, cut cheesecake with sharp knife dipped in hot water.
Community content is available under
CC-BY-SA
unless otherwise noted.