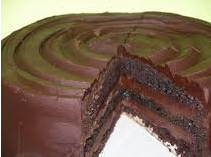 Ingredients
Directions

Flourless cooking spray for greasing
2 ½ cups cake flour
1 ¾ cups sugar
1 ½ tsp baking powder
½ tsp baking soda
½ tsp salt
3 large eggs
¾ cup unsalted butter, melted
1 ½ cups warm water
1 cup Dutch-process cocoa powder, sifted

Preheat the oven to 350 F. Coat two 8-inch cake pans lightly with cooking spray and dust lightly with all-purpose flour. Sift the cake flour, sugar, baking powder, baking soda and salt into the bowl of a stand mixer fitted with the whisk attachment. On low speed, add the eggs one at a time, beating well and scraping down the bowl with a rubber spatula after each addition. Add the butter and blend until smooth, about 2 minutes. Add the water and blend until a smooth batter forms, another 2 minutes. Add the cocoa powder last, mixing on medium speed until evenly blended, 2 to 3 minutes. Scrape down the bowl as needed while you mix. Divide the batter evenly between the pans. Bake until a skewer inserted near the center of each comes out clean, 40 to 50 minutes. Cool the layers in the pans for a few minutes before turning out onto wire racks. Cool completely before filling and icing with Devil's Fudge Icing.
Community content is available under
CC-BY-SA
unless otherwise noted.