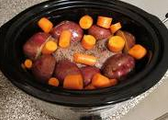 Ingredients
Directions

1 2 ½-lb boneless beef chuck pot roast
1 Tbsp cooking oil
1 lb whole, tiny new potatoes
8 carrots, cut into 1-inch pieces
3 small onions, cut into wedges
¾ cup water
1 Tbsp Worcestershire sauce
2 tsp instant beef bouillon granules
1 tsp dried basil or oregano, crushed
½ cup cold water
¼ cup all-purpose flour
Salt and pepper

Trim fat from roast. If necessary, cut roast to fit into a 3 ½- to 4-qt slow cooker. In a large skillet brown meat on all sides in hot oil. Drain off fat. Meanwhile, remove a narrow strip of peel from the center of each new potato, or peel and quarter each medium potato or sweet potato. Place potatoes, carrots or parsnips, and onions in cooker. Place meat over vegetables. In a small bowl combine the ¾ cup water, Worcestershire sauce, bouillon granules, and basil or oregano. Pour over meat and vegetables.

Cover and cook on low-heat setting for 10 to 12 hours or on high-heat setting for 5 to 6 hours. Transfer meat and vegetables to a serving platter, reserving juices; cover meat and keep warm. Pour cooking juices into a glass measuring cup; skim off fat. For gravy, measure 1 ½ cups juices, adding water, if necessary. Transfer to a saucepan. Combine the ½ cup cold water and flour; stir into juices in saucepan. Cook and stir until thickened and bubbly. Cook and stir for 1 minute more. Season gravy to taste with salt and pepper. Serve gravy with meat and vegetables.
Community content is available under
CC-BY-SA
unless otherwise noted.